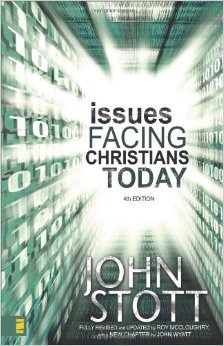 In 2006 John Stott wrote a book titled ISSUES FACING CHRISTIANS TODAY. Although many of those issues persist to this day, it should serve as a reminder to face the rising issues in our own day, 2022. Some seem ever to be with us— plagues, racial violence, wars, growing poverty, government inequities, and the like. But there are issues we personally face on a daily basis— grief, poverty, family breakdowns, insecurities, personal failures, loss of faith in anything, death, and all of its ramifications.
As an introduction to this section we need, we must, decide what our stance will be as genuine followers of Christ. Some questions… .
1. Will we engage our society, and those we know, in these confrontational conditions?
2. Will we, instead, form cloisters of community that withdraw from our world?
3. How will we give an answer of our faith to the increasingly clueless people we know in a way that they can understand?
4. How will we serve and love those who think we are clueless or crazy or just plain irrelevant?
5. How can we contribute to our culture(s) in gracious, creative ways?
6. What do we do when we are ignored?
7. How can we prepare to face persecution… and death?
8. How can we learn to love people who hate us?
9. What if they go after our children?
10. How can we overcome fear?
There are, I know, many more issues we must grapple with; but you get the point. We have been facing a more belligerent society for at least 75 years in America. It will get worse for us. When? How? Who knows?
I don't want to sound like a Doom-Sayer, but we are heading for an era where the Christians will not know the freedoms and acceptance we do presently. Don't believe me? Look at history. Or look at our own Scriptures—
For a time is coming
When people will not endure
Sound teaching.
They will follow their own desires
And look for teachers
Who will tell them whatever
Their itching ears
Want to hear.
~ 2 Timothy 4:3.
or,
… and you will be hated by all
For my Names' sake.
But the one who endures the end
Will be saved.
Matthew 10:22.
Most of us are not ignorant of what is to come. Few of us are preparing for it.
I remember back in the 1950s and '60s Americans were building bomb shelters for our families. There was little concern for the family next door. It was all about PROTECT OUR OWN! Even fine Christian people were stock-piling food…, for ourselves. This felt so anti-Christian to me I could barely believe what was going on. Gun sales were UP then as well.
But this is today. What challenges will we, as genuine followers of Christ, encounter?
Loving God; loving people…, and bringing the two together!
Gary
NEXT— NO POINT OF CONTACT