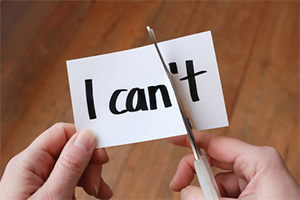 One of our greatest struggles in life is with ourselves. We let our moods, our disappointments, our life-situations defeat us in the most devastating ways.
Friends or spouses try to help, but we rebuff their efforts. It is almost as if we want to wallow in our sadness, our forlorn isolation, our despair.
Seriously, what is wrong with us?!?
Well, that's the whole point, isn't it. We have lost ourselves and our definers of who we are. Worse, we have never thought about who we are. One foot in front of the other. Do the next thing. One foot in front of the other.
Most of us have been there. Some of us are still there. We can't seem to get past square ONE. Sadly, there are some of us who don't want to face ourselves. Too many regrets, too many failures. "I'll never overcome myself." So we get stuck in the vicious currents of our own self-fulfilling prophesies. [Or, we give in and let our depression govern who we are and how we act.]
"I can't." becomes our mantra. How about we go for "I can!"
Inner fears are the hardest to overcome. Fear of failure, of rejection, fear of not being approved. Nobody sees these, but they are there. Sometimes just below the surface, waiting to crack…, or explode.
Where can we find the power to overcome these demons?
You do not have the power within you to defeat this. It is outside you. It comes from the source of your being— the God Creator Jesus Christ.
May I sugest that you need to do is get %#&! mad at yourself. You were NOT designed to be like this. Do not turn to drugs, drink, or sex; but to a friend who will fortify your resolve and help you get you out of that pit.
Second, create an activity what you really enjoy and get into it. [Unless it's bank robbing.] For me, that's writing books, posts, and articles that challenge people in their lives, or getting up high, above 14,000'.
Third, get outside your misery. Adopt a new sport, learn to make kielbasa. In my depression when I was in graduate school I learned to play guitar. Surprised myself.
Finally, find a genuine Christian who knows how to love people. You don't need judgement, condemnation, or more "helpful" advice. YOU NEED A FRIEND. Hopefully, that person will help you untangle the threads of God woven throughout your life. I still struggle with this battle.
We were created to be Whole Persons, not whining little creatures who let every attack or rejection plunge us into the spiral to the pit.
Why are you in despair, o my soul?
… and why have you become disturbed within me?
Hope in God, for I shall again praise Him
For the help of His presence.
Fight Hell and fight like hell! Just so you know, this is still a battle for me.
In Christ our Lord,
Gary
Dr. Gary Davis, President
NEXT— still thinking about it.